George Simmons is a very financially-successful comedian and actor. However, George is self-absorbed, lonely and estranged from his family, by choice. He is subsequently diagnosed with acute myeloid leukemia and is informed that traditional treatments such as chemotherapy and radiation would be unlikely to benefit him, therefore George is offered an experimental treatment which has an eight percent chance of therapeutic response. This development causes George to descend into a depression and upon seeing old videos of his stand-up days, he decides to return to his roots and do stand-up comedy.

Ira Wright (né Weiner) is an aspiring stand-up comedian who dreams of quitting his day job at a supermarket delicatessen department, and who lives with his two friends, Mark Taylor Jackson (Jason Schwartzman), a moderately-successful sitcom actor, and Leo Koenig (Jonah Hill), who is referred to by George to Ira on two occasions during the movie as "that triple-X-L version of you" (Leo later angrily learns that George was interested in employing Leo, in addition to Ira, but that Ira had intentionally and purposefully kept this from Leo).
After an interesting conversation with Mark about Mark′s twenty-five-thousand-dollar weekly paychecks, a fellow stand-up comedienne, Daisy, (Aubrey Plaza), visits, and Mark magnanimously tells Ira that Mark will hold off having sex with Daisy for ten days in order for Ira to. Ira has an interesting conversation with an ex-convict fellow employee (RZA) about dental benefits and the unfortunate effect Ira′s comedy routine had on the ex-convict′s wife. George and Ira meet at a comedy club, where George takes the stage to deliver a dark routine. Ira is "up" next, and draws some laughs by mocking George′s morbidity (even though George is part of the audience). George calls Ira the next morning and asks him to write jokes for George's upcoming gig at a MySpace corporate event.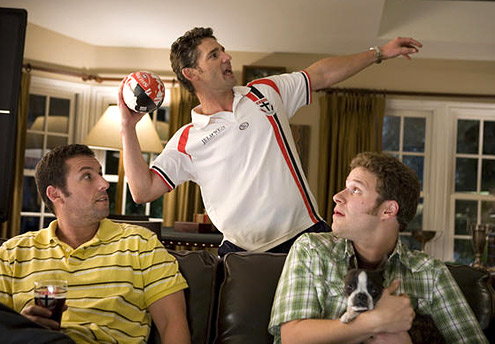 The event goes well and George hires Ira as his "assistant". George mentors Ira with regard to some perhaps funny but ultimately self-defeating aspects of Ira′s comedy routine, involving certain bodily functions—Ira′s fascination with which, George comments, is sure to have a chilling effect on Ira′s romantic and sexual potential. Informed of his condition, Ira cares for George through the treatment. After an interesting walking conversation between Ira, Mark, and Leo, in which Ira and Leo declare that there is compelling evidence that Mark′s deceased grandfather is "in hell playing backgammon with Hitler", eventually, Ira implores George to tell people about his disease. George does call his ex-girlfriend, Laura, to apologize for his continual infidelities when they were together, but does not tell her why he is having a change of heart. Meanwhile, at Mark's, Ira′s and Leo′s home, Ira sees Daisy come out of Mark′s bedroom. Ira decides that, even after Ira had asked Daisy to a Wilco concert, that Daisy has had sex with Mark. Ira confronts Daisy, in what Daisy observes to be their lengthiest conversation to that point in time, about having had sex with Mark while in the planning stages of attending the concert together. Meanwhile, Leo arrives, and comments, on seeing Mark and Daisy standing next to one another, declaring that Leo is himself "getting" a "vibe", and has therefore developed a "quarter-chub". Laura comes to one of George′s shows. She later tells George that her husband, Clarke, cheats on her as well when he travels to China on business. She regrets leaving George, and they end up becoming reconciled.


George′s physician (a Scandinavian George and Ira previously mocked for the physician′s ethnicity in common with actors who appeared in the movies Die Hard and The Matrix Reloaded, and for his common ethnicity with the founder of IKEA) tells him that the medicine has worked: George, almost miraculously, has no traces of the disease, but that it could resurface. Ira is happy; however, George is unsure what to do with his life. He decides he wants a long-term relationship and calls Laura, but does not tell her the news. George and Ira go to San Francisco to perform; Laura meets them there. George makes Ira tell Laura during intermission that he is free of disease. George later explains that he didn′t want to jinx it. They embrace and she invites George and Ira to her house in Marin County.


George and Ira spend time with Laura and her daughters. George and Laura sneak into the guest house together, and indulge in some extramarital sexual activities. Ira tells both daughters that George is healthy now. Clarke (Eric Bana) unexpectedly arrives home; Laura asks George and Ira to maintain the façade of George being deathly sick.

In the morning, Clarke bids George a tearful goodbye. His daughters reveal that George is actually healthy. Clarke confronts Laura and suspects she is cheating. Laura tries to explain that George may not be entirely free of disease and "calls Clarke out" on his infidelity; he drives off. Laura decides to leave him. Ira thinks George should leave because it is not worth it to ruin a twelve-year marriage, but George threatens to fire him.

The next day, George, Ira, and Laura watch video of Laura′s daughter, Mabel, performing the song "Memory" from Cats. Ira and Laura find the performance moving, but George inadvertently mocks it. Laura leaves for the airport to tell Clarke she is leaving him. Ira lies to George and follows her. Clarke tells Laura that he wants to give their marriage another try and that he only cheated on her twice, ostensibly with two Chinese women, that "couldn′t even speak English". Laura agrees and says her fling with George was a mere flirtation. Ira, having followed Laura and Clarke to the Taiwanese Great China Airlines First class lounge, gets caught by Clarke trying to sneak away (Ira protests that he was merely looking for "Panda Express"). Laura is then forced to tell Clarke she slept with George.


Clarke chases George out of his house, throwing his fists at him. George asks Laura to explain; however, Laura "sides" with Clarke. Heading back to Los Angeles, George berates Ira for his betrayal, and George terminates Ira′s employment. Ira upbraids George for not learning anything from his experience, saying that his insensitivity hasn′t changed.

Ira returns to his old job at the deli department. George attends Ira′s stand-up and watches him being more confident on stage. The next day, George finds Ira at work and admits that even though he is no longer sick, his attitude needs improvement. George offers Ira jokes he wrote down, proving he is making an attempt to become a better person.
Okay, now after watching The Tale of Two Cities, and all that sad-waah-wahh French Rev stuff.... I thought Funny People would be a very nice pick me up.... oh but from the beginning when Adam Sandler's character is diagnosed with cancer, and George's attitude towards his life and what he accomplished in it just makes him angry and cynical. This movie wasn't the pick me up that I wanted.
With the "funny people" stars in this film, I thought this would be the next Billy Madison or Superbad... my mistake. I was glad to see a change in Adam's character when he started connecting with old star-buddies, family, and the love of his life. And I love that Eminem made an appearance, and even Ray Ramano fighting him too! And I loved Eric Bana's real voice/accent. At least the ending was not wah-wahh.
"Underneath anger is hurt, underneath hurt... is love." so true.