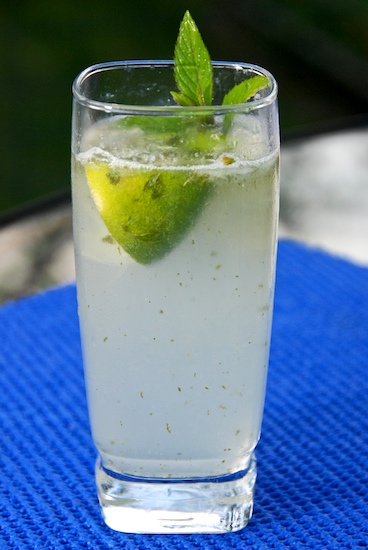 I love a good mojito... especially if I didn't make them, but incase you (or I) need to whip up a batch, this recipe is simple to do! I myself add more mint leaves because I really like the mint with the lime.
6 large fresh spearmint leaves, plus 1 nice sprig for garnish
4 tsp. superfine sugar; more to taste
1 lime
Crushed ice as needed
2 fluid oz. (1/4 cup) light rum
Cold club soda as needed
In a tall, narrow (Collins) glass, mash the mint leaves into the sugar with a muddler or a similar tool (like the handle of a wooden spoon) until the leaves look crushed and the sugar starts to turn light green, about 30 seconds. Cut the lime into quarters. Squeeze the juice from all four quarters into the glass, dropping two of the squeezed quarters into the glass as you go. Stir with a teaspoon until the sugar dissolves into the lime juice. Fill the glass with crushed ice and pour the rum over the ice. Top off with club soda, stir well, garnish with the mint sprig, and serve right away.